Yorkton Place LLP, Surrey B.C.
---
Surrey, BC Quick Facts:
Surrey is part of Greater Vancouver, the largest city by area in British Columbia & 2nd largest by population.
Only 25 min drive to Richmond & 40 min to Vancouver City Centre.
Affordable Property Prices – still 30%+ cheaper than Vancouver.
Diversified Developing Economies including manufacturing, clean tech, health tech, agri innovation & creative economy.
"Top British Columbia Investment Towns" – The Real Estate Investment Network (REIN).
Yorkton Place is located at a major intersection – King George Boulevard & 64th Avenue.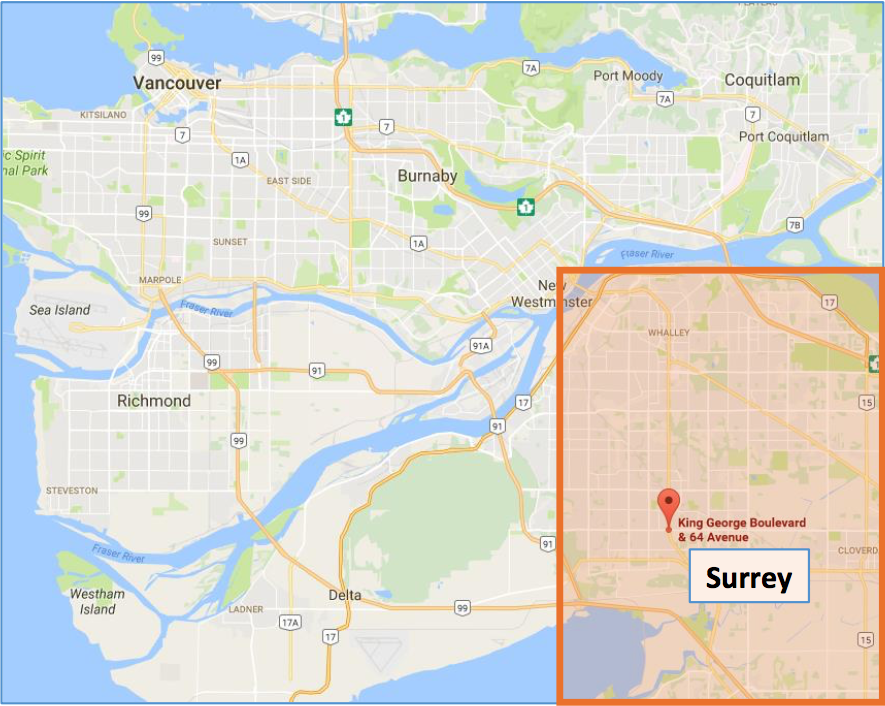 ---
Surrey City Growth
Surrey is one of the fastest growing cities in Canada and is projected to surpass Vancouver's population within the next 20 years.
508,040 residents live in Surrey (2014 census)
By 2041, 1 in 5 Metro Vancouver residents will live in Surrey
Surrey is British Columbia's second largest city.
Surrey's population has increased 25% in 9 years.
Surrey has benefited from more than $5 billion of commercial, industrial, and residential construction in the last 5 years.
46% of available industrial land in Metro Vancouver region
---
Education
Surrey is home to 2 universities.
Simon Fraser University (SFU) is consistently ranked as one of Canada's top research universities.
Kwantlen Polytechnic University (KPU) has the 2nd largest business school in western Canada.
---
Vancouver Real Estate Market to Remain Robust
Demographics: Millennials are entering the housing market, and Baby Boomers aren't downsizing.
Jobs: Vancouver and Toronto accounted for all of Canada's net job growth in the past year, accounting for a one out of four jobs in the nation.
Urbanization: Canada's economy is shifting away from manufacturing to service-based businesses concentrated in Toronto and Vancouver.
---
Surrey Outlook
Strong population in-migration into Surrey from other Canadian provinces, and around the world is expected to continue for the foreseeable future, given current and historical trends.
The availability of large tracts of land in Surrey for development, large inflows of capital, strong population growth, youthful population, visionary political leadership, and its vicinity and strategic location in the Vancouver metropolitan area, sets the stage for strong economic growth, and a vibrant real estate market well into the future.
---
Location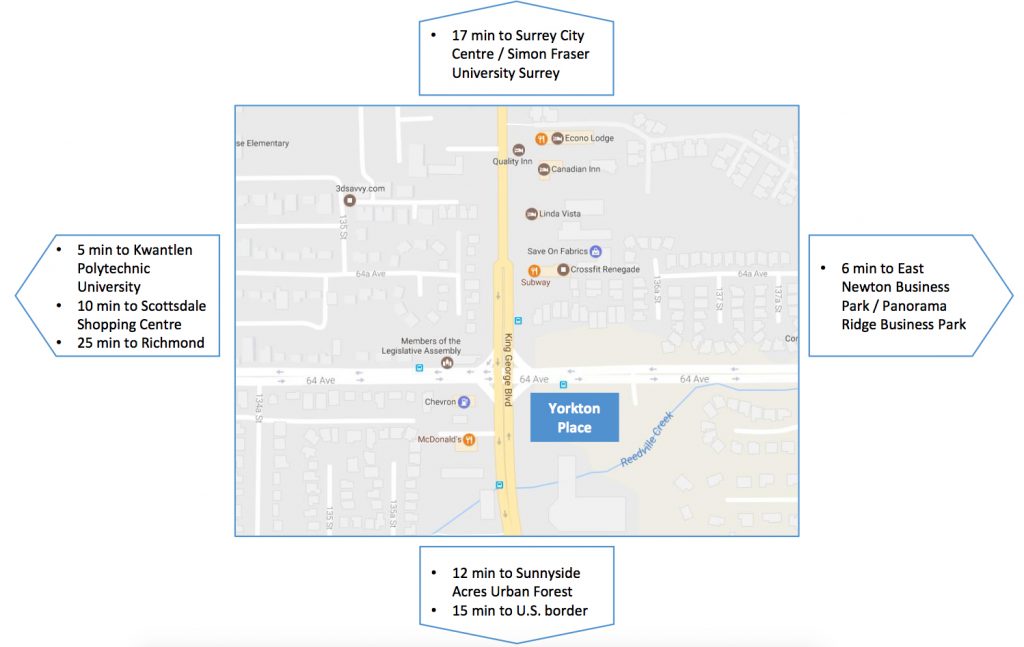 ---
Project description
The land is proposed to be developed in two phases. Phase 1 will comprise a 2 storey commercial retail/office building (Building 4) and two single storey commercial buildings (Buildings 2 and 3) and Phase 2 will comprise a 6 storey mixed use retail/residential building (Building 1), zoned Comprehensive Development (CD) specific for a public market, which will be constructed with steel and concrete construction.
Plans are to construct approximately 79 condominium units (potentially approximately 95 condominium units) in the mixed use retail/residential building (Building 1), comprised of one bedroom and two bedroom layouts. The residential portion of the building will have a gross floor area of approximately 60,000 square feet and a net floor area of approximately 53,400 square feet (potentially approximately 83,650 square feet and a net floor area of 74,449 square feet), with the condominium units having an average size of approximately 675 square feet. Should additional building area be constructed, the above square footage numbers will be adjusted accordingly. The square footage figures remain subject to final zoning and design approvals.
The 6 storey mixed use retail/residential building (Building 1) offers approximately 11,600 square feet of ground floor retail space demised into commercial space divided into smaller strata units. The condominium units range between 750 to 1,000 square feet to allow the flexibility to combine units. The 2 storey commercial building (Building 4) offers a gross floor area of approximately 6,200 square feet demised into two ground floor retail units of approximately 2,500 square feet and approximately 3,000 square feet of second floor office space. The approximately 4,100 square feet single storey commercial building (Building 2) comprises a single retail unit, and the approximately 6,000 square single storey commercial building (Building 3) is expected to be demised into two retail units of approximately 2,100 and 3,900 square feet. The configuration of the commercial space is subject to change based on market demand. The square footage remains subject to final zoning and design approvals.
---
Timeline